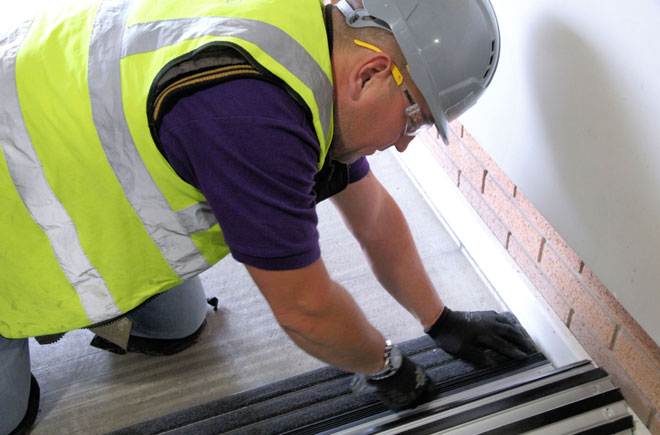 "…friendly, efficient and tidy installers."
Perfectly installed entrance mats, to your program is made possible by our dynamic contracts team who work closely with you to ensure that installation is completed when you need it.   Advance notification is given of any products on extended lead times, and realistic time frames are given to enable you to accurately program your project.
Our comprehensive installation service encompasses both matwell frames and entrance matting.  Frames are fitted within the recess and a self leveling latex skim is applied, forming a water resistant, level base.  The mats are then neatly trimmed to fit within the perimeter frame.   When replacing existing matting we will uplift and remove from site the old matting, disposing of it in accordance with our environmental policy.
Creating matwell recesses within existing floor finishes is sometimes necessary and we are able to offer this service as part of the package, if required.
Shaping of matting is carried out on site, enabling us to install entrance matting within revolving doors and to virtually any shape required, largely eliminating the need to manufacture templates.
24/7 installation means that disruption in occupied buildings can be kept to an absolute minimum.