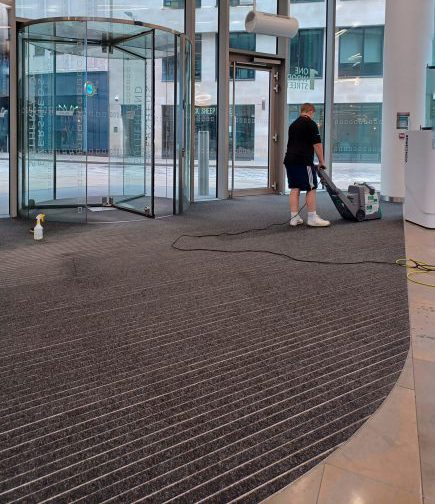 Cleaning your entrance matting has never been more important, and at SDS Matting we recognise that an effective cleaning regime can have a significant impact. It not only prolongs the life and effectiveness of the matting, it also helps with infection control. To assist you with this, we offer a specialist entrance matting & matwell cleaning service.
How we can help:
Examples of some of the bespoke actions that SDS Matting carry out include:
Disinfecting and steam cleaning entrance matting weekly. This means less build up of dirt and bacteria.
Replacement of worn or matted carpet inserts in Aluminium mat systems with new, fully functional inserts.
Removal and complete replacement of existing mats, if required.
Why cleaning is important:
High performance entrance matting is vital in public buildings because it is the first barrier against dirt and moisture. Everyone entering the building has to walk over it and, if not cleaned properly, it can quickly become clogged with dirt and other contaminants.
The fibre inserts in entrance matting remove and trap dirt as people walk over the mat. This stops the dirt from entering further into the building. In addition to this, the fibre inserts help to dry the shoes, which reduces the risk of slipping on hard floor surfaces beyond the matting.
Just as a waste bin needs emptying when its full, the fibres of entrance matting need emptying of dirt particles. Regular cleaning means that less dirt will overflow onto the floor beyond the matting.
In the current Covid-19 crisis it is important to do everything possible to prevent the matwell becoming an infection trap, so cleaning the entrance matting will help to keep your building clean and safe.
Please contact us today to take advantage of this specialised service. We have a dedicated team to respond to your current needs and will arrange a site visit within 24 hours, followed by confirmation of costs.